Man is a sinner, separated from God.
"For all have sinned and come short of the glory of God."

(Romans 3:23)

"But your iniquities have separated you from your God."

(Isaiah 59:2a)
The consequence of sin is death

.

"For the wages of sin is death."

(Rom. 6:23a)
Man is unble to save himself, he cannot earn salvation.
"But we are all as an unclean thing and all our righteousnesses are as filthy rags."

(Isaiah 64:6)



"Not by works of righteousness which we have done, but according to his mercy he saved us . . . ."

(Titus 3:5a)



Because God loved us, He sent His only son, Jesus Christ, to pay the penalty of sin for every person. He died on the cross, was buried, but rose again and offers eternal life as a free gift to all who will receive it by faith

.

"For God so loved the world that He gave His only begotten Son, that whosoever believeth on Him should not perish, but have everlasting life."

(John 3:16)



"For by grace are ye saved through faith; and that not of yourselves; it is the gift of God: not of works, lest any man should boast."

(Ephesians 2:8–9)



When a person accepts Christ as their Savior they immediately possess eternal life.
"These things have I written unto you that ye may know that ye have (possess now) eternal life."

(I John 5:13)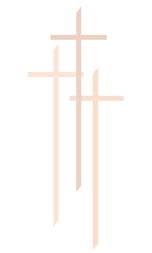 If you have any questions regarding salvation and your own eternal destiny, please contact us.